November 29th, 2012
Robocoder Corporation was a speaker at the 2012 Leasing Life Conference in Barcelona, Spain
Lower Mainland, Vancouver, Canada -
Robocoder President Nelson Lin delivered the platform technology message at the Leasing Life European Conference & Awards 2012, on November 29th, 2012. This event is a platform that brings banks, vendors, technology, or finance providers together to network and share best practices. For more information please visit
Leasing Life European Conference 2012.
Mr. Nelson Lin presented " Starting from Scratch: What will tomorrow's lessors need from their technology?" Where he discussed how small differences can make a big impact in business and why business applications need to have incremental and iterative business applications that will meet the rapid changes in business today. The overview of his speech is: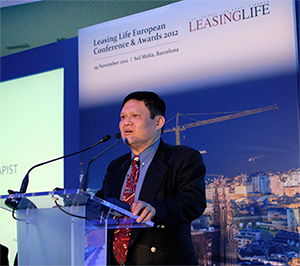 It's all about Ontology: Software should be a reflection of reality!
Tailored software: How do you differentiate from your competitors?
Permission management: How to collaborate with your customer and vendors.
Late-Change-No-Penalty: Change is a fact of life. Late change should be embraced, not avoided!
One click deployment: How automation of development process can give you competitive advantages.
"I thought that your presentation was very thought-provoking and intelligent – very good." said Chris Cooper, Managing Director of Challenge Consulting Ltd.
About Robocoder Corporation
Robocoder Corporation delivers custom enterprise applications and specializes in streamlining business process management while being a unique provider of automated process solutions and tools that are currently serving the structured-finance, energy, and logistic industries. Rintagi™ 4D is the company's unique and patented development platform enables anyone to customize and manage complex enterprise software applications based on metadata. It is iterative and incremental platform that is used for software development and is capable of serving any industry. Rintagi™ 4D platform in the cloud is a point-and-click software code generation platform that consistently reduces risk by providing you with fast solutions that you want and embraces late changes without penalties.
For more information, visit www.robocoder.com or send e-mail to Robocoder Press, or call (604)273-8086.
Rintagi™ is a trademark of Robocoder Corporation. All other trademarks are the property of their respective owners.